Street artist BANKSY secures trademark victory at EUIPO
British street artist BANKSY has gained a major success before the Boards of Appeals of EUIPO (European Union Intellectual Property Office) regarding his well-known image of a monkey. A greeting card company had filed a request for cancellation. The Fifth Board of Appeal held that the trademark, registered by BANKSY's authenticating body Pest Control Office Limited, remains registered. It thereby overruled a prior decision of EUIPO made in May 2021 which attempted to render the EU trademark invalid based on bad faith.
The case deals with an interesting intersection of copyright law and trademark law. The application of the challenged EU trademark dates back to 2018. It comprises the depiction of an ape and is among BANKSY's most iconic characters. The image first appeard on the wall of a nightclub in Brighton in 2002. It has been included in several further BANKSY works since then, including one that sold for almost USD 3 million at Sotheby's in 2021. The EU figurative trademark had been registed by BANKSY's Pest Control Office Limited, an entity used by the street artist to secure his anonymity.
Invalidity action based on bad faith
The trademark registration comprises several goods and services in classes 9, 16, 25, 28 and 41 (EU017981629):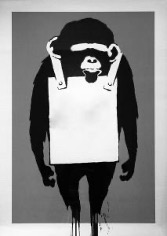 The dispute regarding the figurative trademark started when a greeting card company constested the EU trademark via an invalidity request which was based on lack of distinctiveness and bad faith. The case mainly relied on the claim, that Pest Control Office Limited had filed the trademark without any intention to use. EUIPO's first decision confirmed bad faith and argued that the work of BANKSY was free to be photographed by the general public and was therefore disseminated. The Office also referred to past BANKSY statements as he is famous for speaking out against copyright protection, saying it was for "losers".
Intention of use at dispute
However, the Fifth Board of Appeal did not find this convincing (Decision of Fifth Board of Appeal of 25 October 2022: R 1246/2021-5). It made a distinction between prior statements of BANKSY as an individual and the present corporate intention of the trademark owner Pest Control Office Limited. Past statements of BANKSY would therefore not speak against an intention of use. In addition, it was pointed out that there are no high requirements regarding intention to use under EU trademark law and a 5 year grace-period to initiate genuine use.
Copyright Law ./. Trademark Law
The fact that the contested trademark consists of an artwork protected under copyright law will also not pose an obstacle to trademark protection. This applies in particular in consideration of BANKSY's interest to remain anonymous. A fact which hinders him to enforce copyright claims which would require to unveil his identity. The latter seems one of the most important aspects of the victory as BANKSY can remain "in the shadows" – a clear advantage of trademark law in constrast to copyright law.